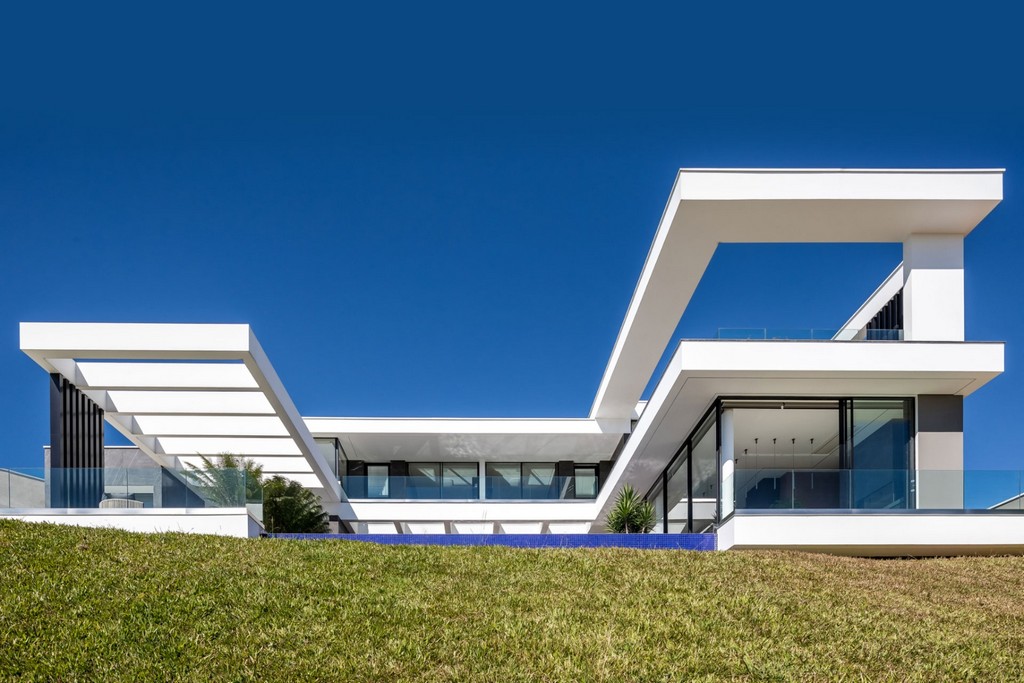 © Eduardo Macarios
Architecture: Arquitetare – Elaine Zanon & Claudia Machado e Arquitetos Associados
Client: private
Location: Curitiba (BR)
Contractor: Alubauen Ltda
An oasis opens in front of the city of Curitiba in southern Brazil: in a residential area on the edge of the Serra do Mar mountains, architects Elaine Zanon and Claudia Machado have created a single-family house with a panoramic view.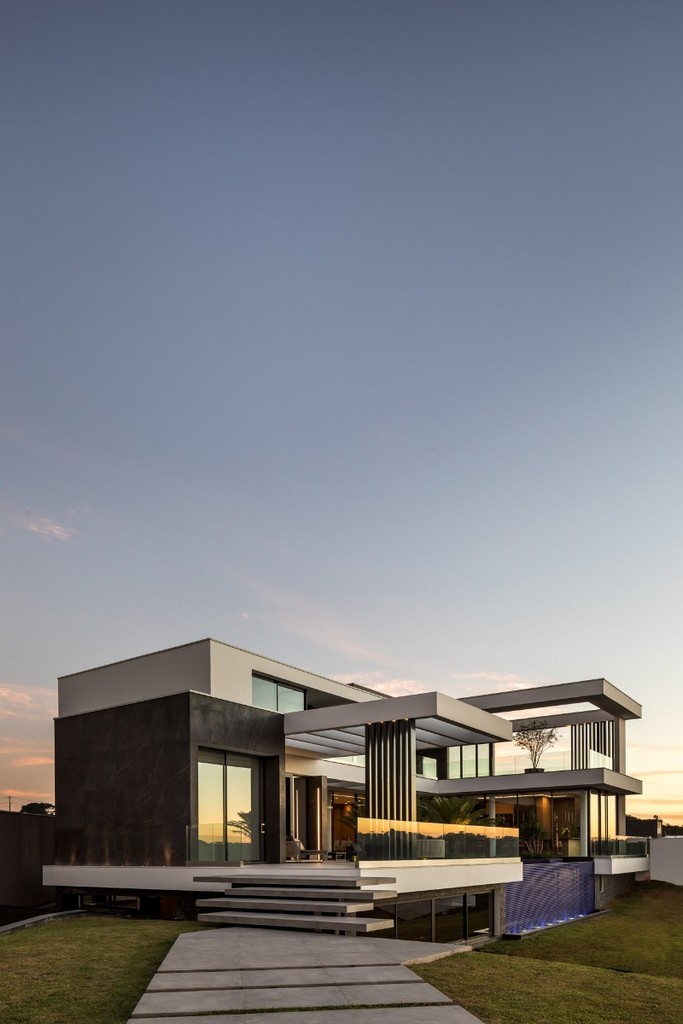 © Eduardo Macarios
The location was crucial for many decisions from buying the property to designing the house. "The integration of the landscape forms an indispensable design element and makes the residence a true urban sanctuary," emphasizes the responsible architect Elaine Zanon. Flowing transitions are the focus of the design concept. The U-shaped building opens onto the lounge and leisure area with an infinity pool that appears to flow into the expansive green space. Indoor and outdoor areas merge with each other through oversized glass surfaces and Schüco Panorama Design sliding doors. The decisive factor here is the particularly narrow frame of the sliding doors. Glass terrace railings allow unrestricted views of the mountain panorama all around.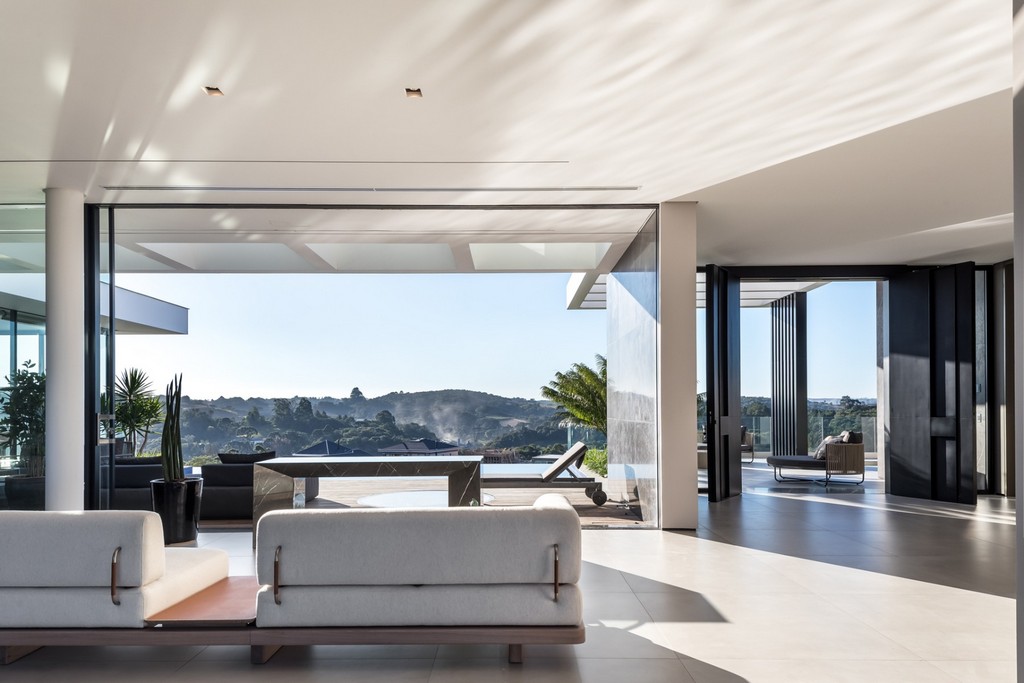 © Eduardo Macarios
Conversely, the play of light and shadow of the large pergolas finds its way into the interior of the building. "The architecture is characterized by the play of different volumes, distinguished by the contrast of light and dark tones and different textures," describes Elaine Zanon. In order to give the modern building a natural character, the grained Gris Armani natural stone runs from the facade to the fireplace and into the bathroom. A contrast to this is formed by light natural tones, warm wooden floors and wall coverings, which the family wanted for their living rooms and bedrooms. In the basement, in addition to the garage, there is space for an interior garden and hobby rooms. The heart of the house on the ground floor combines the kitchen, living and dining area – of course with a smooth transition to the terrace.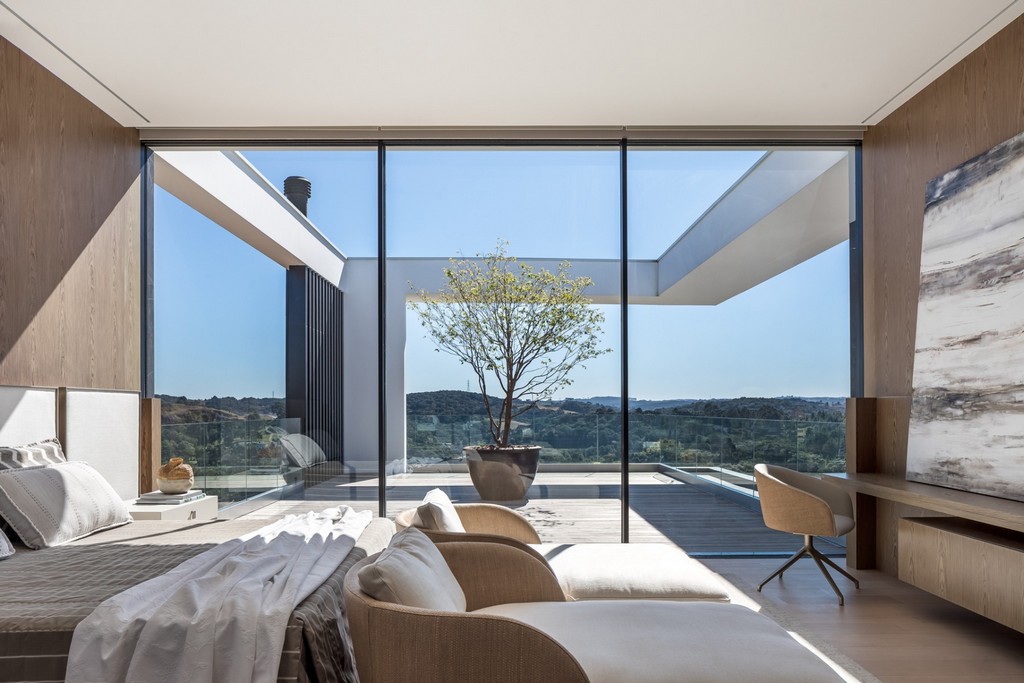 © Eduardo Macarios
For the sliding elements, the architects used the Schüco ASS PD 39.NI (Panorama Design Non-Insulated) system, which is particularly suitable for warm climates but can also be used inside buildings. It offers highly transparent solutions for areas without thermal insulation requirements, optionally with invisible handle-free operation in the hooking area or with a continuous handle bar. 90° corner solutions can also be implemented with the system.